In recent years, the concept of fan economy has become more popular from China to the world. Especially in 2020 this year, due to the impact of the Coronavirus pandemic, online shopping has become the main purchasing channel for living materials, and many online store sellers has got succes thanks to live broadcast sales. If you happen to plan to develop some customized neck gaiter face mask products for fan economic sales, then how to find a reliable bandanas supplier becomes a crucial step. Now come with me to find the answer how to solve this problem!
What is fan economy?
The role of a fan can be as an aficionado or supporter. In the media and entertainment industry, fans are consumers who carry tight bonds with artists and the brands they are associated with over long periods of time. Every fan has traits that influence his or her social behavior and habits of consumption. When a fan finds others with similar preferences for a brand or artist, they may create or join a "fan group" (such as a fan club), which can develop into a "fan culture" with identifiable customs, attitudes, and behavior. Fan groups often work tirelessly on the one thing they share together—supporting their idol and glowing in the satisfaction of their idols' achievements. Increasingly, fans, with the aid of continually advancing social media platforms and mobile technologies, are developing long-term, stable, virtuous, and reciprocal relationships with their idols that not only satisfy the desires of fans to have personal connections with their idols but can also influence and serve to develop the public personas of artists and their brands in return.
Any fans e-commerce in the USA?
Yes sure. In the United States, the fan economy also has a large potential market. For example, the same clothes of celebrities (Harry Styles), related accessories of popular anime or movies (Marvel), and even video game characters such as Mario and so on.
Of course, the most mainstream is the influencers of major video or picture sharing platforms, such as YouTube, Instagram, Twitch, etc. Many of them have tens of millions of fans, they are all potential customers!
If you happen to be an outdoor sports YouTuber with a certain number of subscribers, then the neck gaiter product will be very suitable for you to make money for the very first tiime: it can be used as event giveaways, customized logo bandanas as promotional gifts or personnel protective equipment as everyday life essentials, which is both beautiful and practical, besides the cost is as low as $0.5/unit or less!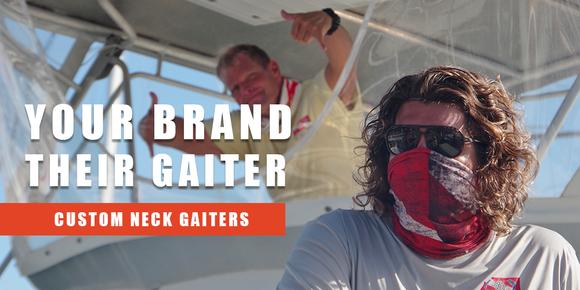 What's a reliable supplier for custom made neck gaiter mask
Have to be made in usa?
No not really, because the production process of bandanas is very simple and mature. Most of the countries in the world produce almost the same neck gaiters, and they can also produce customized bandanas with the same quality as those made in the United States. So it is not necessary to source from the local in the US.
In addition, Chinese textiles are well-known for their high quality and low price. As long as you choose the right supplier, you can buy more neck gaiters like American made with less money!
How to find a good chinese manufacturer of custom neck gaiters?
You may search on alibaba.com or go to Google to search for china custom neck gaiter supplier. Both methods work but are too troublesome. Because you will find a lot of manufacturers to choose from, and then go to consult and communicate with each other, and due to language barriers, these cross-border communications have always been inefficient and tiresome. Even after determining the neck gaiter design, you have to worry about shipping, logistics and customs issues. This series of processes is very unfriendly to novice sellers.
So why not just find a mature supply chain company? Here I recommend Berunwear.com to everyone. This is a perfect choice: Berunwear can help you online store sellers like Shopify and Facebook influencers with fan economy to solve purchasing problems in one-stop, efficient communication, quality assurance, fast delivery, and considerate after-sales, allowing you to focus on sales and earning money!
We can put your logo or artwork on this design or any other custom background. Enjoy custom neck gaiters for a very reasonable price. There is no minimum order quantity and there is no setup or design fee. Neck gaiters make a great promotional item that you can give away at events or sell to your fans.
Berunwear's customization service for neck gaiter masks
Custom neck gaiters will aim and satisfy any market need as well as deliver an affordable product that is top production quality, custom neck gaiters can guarantee an impact to the intended demographic. Custom neck bandanas are one of the most popular printed products you'll want to know about! From small business marketing to global company branding, custom neck gaiters will increase your exposure and visibility. Known as the "original headband", custom neck gaiters are a low cost marketing product that is versatile yet can be a stylish accessory.
Berunwear has also its own factory which is the top producer of custom neck bandanas for companies, festivals, teams, schools, or any occasions suited for custom neck gaiters. Over the last 20 years we have engineered our Advanced Application Technology that guarantees a premium soft-hand prints, essential for all custom neck gaiters. If you don't fancy yourself a designer, we have you covered with our expert graphics team that can assist with the creation of your custom designed neck gaiters.
You're in the best of hands with Berunwear! We are the neck gaiter experts that will be able to accommodate any custom neck gaiter needs… we love what we do!