For the last few months, you should have been covering your face when you go outside. But now that the summer is coming in Australia, the heat is going to rise. Which means that it will be really uncomfortable with a mask on. But it doesn't have to be when you pick up a cooling neck gaiter. Stay cool and dry when it's hot. Full color cooling neck gaiters can also double as face coverings where non-medical masks are required. Here in this post you will find how to custom made cooling neck gaiter masks in Australia.
What's exactly a cooling neck gaiter and can it really keep you cool?
Cooling neck gaiters from Berunwear are seamless tubular bandanas that are made of a cooling material. Made of "ice silk", they are designed to keep you cool and dry in the hot sun.
These customized neck gaiters are moisture-wicking to keep your neck dry when sweating. They are quick-drying and soft on the skin. They are stretchy and fit most head sizes.
Neck gaiters are truly multifunctional. Wear them as a scarf to protect yourself from the sun while doing outdoor activities. These gaiters offer SPF 50+ sun protection.
When a non-medical mask is required, pull the gaiter up over your nose and use it as a convenient face cover. Some people prefer the nonrestrictive feeling of a neck gaiter over a face mask. They are lightweight, breathable, soft, and conveniently worn around the neck.
(Note: Neck gaiters are considered non-medical face covers. The CDC recommends wearing a neck gaiter with two layers or long enough to fold to create two layers.)
For those who want more protection against COVID-19, Berunwear.com offers cooling neck gaiters with your custom logo and images, and you can choose to add a PM2.5 filter pocket or no filter.
Promotional Cooling Bandanas
A convenient, fashionable, and cutting-edge way to stay cool and dry during hot days or after intense exercise sessions, our custom cooling bandanas are a big hit with every audience. They can be worn around the neck or wrapped around different parts of the body to offer some comforting coolness without making users' skin become excessively damp. These specific neck gaiter bandanas are designed to provide cooling relief to users, with many models being able to assume different forms and be worn on different parts of the body.
Custom Cooling Buffs and Gaiters
Custom buffs and gaiters are one of those garments that no one particular use can be agreed upon. From cyclists to runners, hikers, fishermen, and all points in between, neck and face gaiters and buffs, are applicable for just about any outdoor recreation activity in order to keep their face cool and dry. They operate effectively as a headband or an adjustable neck scarf that can also cover your mouth like a face mask to keep dust and other debris out of your face and neck. They excel at keeping the wind/sun/dirt off your skin and out of your mouth and even offer a solid barrier of protection from sunburn. Buffs and gaiters can also be used as a hood, headband, beanie, hair band, headscarf, or scrunchie to wipe off sweat and keep tidy.
Dye Sublimation
Dye sublimation is a process in which heat and pressure are used to fuse pigment directly to the fabric of a garment. This process bonds at an atomic level to the fibers of the custom buff and gaiter, making it colorfast. The process can also be highly detailed, allowing you to permanently affix any design, logo, or lettering to the cloth being used.
Dye sublimation produces a product that will not flake, fade, blur, or bleed, unlike other dyeing processes. This means that your neck and face gaiter and buffs can take a lot of sweat, physical punishment, and even sunlight without wearing out the design. What's more is it is extremely durable wash after wash, letting you use it and clean it as needed without fear of ruining it. Dye sublimation can be made to order on anything from jerseys to hoodies, buffs/gaiters, to tanks or shorts.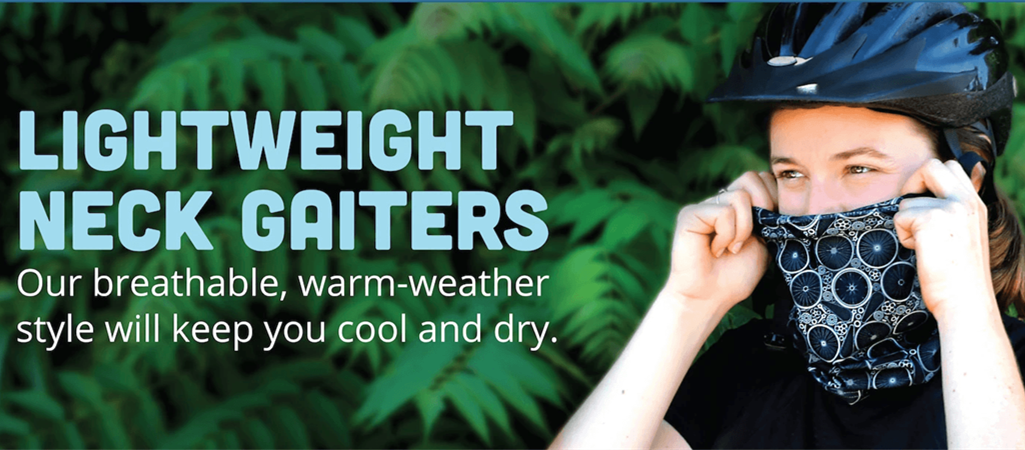 Why Choose Customized Cooling Neck Gaiters From Berunwear?
Cooling neck gaiters customized with your logo, images, pattern, or design make for great giveaways to promote your company, products to sell in your store, or cooling products for your employees, your sports team members etc.. Contact us today for a design customized for you.
In Berunwear, all of our artwork is done in-house by experienced graphic designers.
Optional Filter Pocket: For added protection against dust and airborne contaminants
Quick drying fabric: Stays dry no matter how much you sweat
Moisture wicking: Draws moisture away from the skin so you stay dry and comfortable in the heat
UPF50+ Sun protection: Wear it to protect your neck, face, and head on hot and sunny days
Dust protection
Wind protection
UV protection
Breathable and lightweight
Soft and cool
95% Polyester + 5% Spandex: Soft and stretchy
One size fits most
Weight: 40g/ 1.4oz
Dimensions: Adult: 45cm x 24cm / 17.72″ x 9.44″ | Child: 30cm x 20cm/ 7.87″ x 11.81″
Washable: Machine washable. Hang to dry.
Our custom made cooling neck gaiters stand apart from other face masks out there. No matter what you are doing outdoors, this will keep you cool and protect you from the sun and keep harmful particulates out of your lungs. Pick up one sample now while you still can. You won't regret it.