Private label clothing is the new hip and happening business to start and if you want to get your own, then you will need a collection that matches the private label style. That's not easy, right? Well, it is with sportswear apparel manufacturer – we are one of the main manufacturing companies of sportswear apparel in the United States of America. Our collection of diverse styles in the sportswear industry is what makes us a great option for your private label fashion as well. If indeed you want to make passive income from your business, then you need to start making plans on how to find your own private label sportswear manufacturer. 
Should you find private label sportswear manufacturer: Why and Where?
If you are a start-up founder and if you are engaged in the process of building up your brand image, you are encouraged to go ahead with this kind of a product label. It is a convenient and a hassle free method to get your products off the ground. You will not have to spend a lot of money on it as well.
The main reason why most of the people prefer to go ahead with a private label manufacturer is because of the additional level of convenience that they can experience. When you select a reliable company out of the private label manufacturers list, you will be provided with the chance to keep peace of mind. That's because you don't have to go through the hassle of developing products from the scratch. You can get the manufactured with the assistance of manufacturers, who have knowledge and experience. Hence, the risk associated with product failure would be extremely low as well. This can provide a hassle free method to increase your business processes.
Fortunately, at Berunwear Sportswear company, issues on how to find your own private label manufacturer is solved because we are right here at your service.
As your own private label manufacturer, we will take four basic process to make sure everything falls into place.
Meeting with our Agent- This is the first step, this meeting can be done online or you come around to our head office to speak directly our agents during which you will pitch the ideas of your product and why you want us to be your own private label manufacturer. Price negotiation is done at this stage as well and other things.
Sampling- Work and research kick-starts immediately a deal has been sealed. Our primary objective is to deliver a product of high quality, so the research process will be repeated until it is perfect.
Production stage- Based on whatever agreement we had, the production process will commence without any further delay.
Delivery stage- The delivery process is fast and quick. It is done exactly the way you want it as stated in the Agreement.
Berunwear Sportswear is a high-end sportswear manufacturer for brands where quality and design are essential. Our unique collections can be made with your logo specifications and color/prints combinations with complete attention to detail, form, and function to give you the highest quality product. Our team will guide you through the customized production process to help you create a superior quality garment.
MOQ & LEAD TIMES TO APPLY YOUR LOGO OVER OUR EXISTING DESIGNS
30 piece minimum is required and may be on different styles and sizes, but at least 6 pieces from each variation.
Available sizes and colors are outlined per style on our website and we can also update you with new available colors/prints at the moment.
Logos may be heat-transfered in many colors, reflective or embroidered tags (charged separately or you can provide us with them).
The lead time is 4-6 weeks approximately.
ARTWORK & SET UP CHARGES
The client is responsible for providing the logo artwork.
One-time set-up fee of $200.00
Per-item charges based on the collection chosen and complexity of logo (prices upon request).
Hot-stamping logos usually need a minimum order quantity that will also depend on the complexity and size of the logo (prices upon request).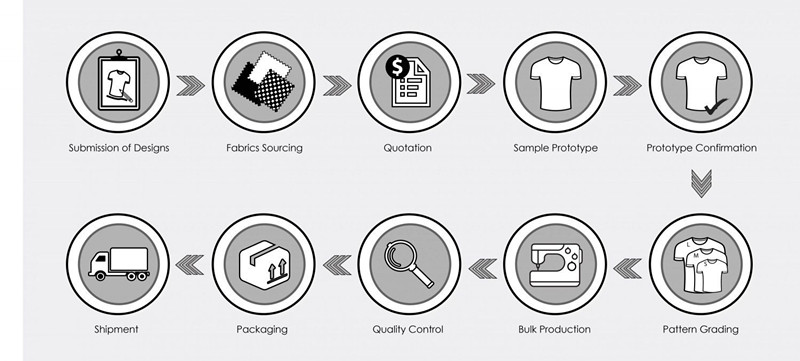 Berunwear: Private label yoga wear manufacturing
When it comes to yoga, the only thing we can think of is bliss and peace of mind. What all of us tend to forget is that yoga exercises need proper gear to make sure that practitioners can hold proper form over long periods of time. They must be light weight, tight fit, and stretchable to ensure optimum performance and our yoga clothing ticks all of those check boxes. We have followed yoga experts over the years and surveyed them in order to narrow down to the best material along with the right amount of stretchability and lightness when producing wholesale yoga clothing for our bulk buyers. In fact, no matter what colors your customers demand, we have it all lined up for them. You can easily go the custom way and spell out your requirements!
Berunwear: Private label athleisure wear manufacturing
We aim to make each piece of athleisure become a must-have item that creates an active life. No matter if you have got a completed design of a full athleisure selection or only a raw idea a specific product like private label leggings or private label yoga pants, just let our service help to bring it to life with the best suitable fabrics, gorgeous design and an international standardized production system.
Berunwear: Private label gym apparel manufacturing
Made for people who like to go hard core while sweating it out in buckets, these range from compression wear to shorts, joggers, vests, and t-shirts! In fact, in many ways these apparels peak performance with better muscle grip and increased blood flow.
Available in colors of every shade, Berunwear sportswear's wholesale gym clothing manufacturing segment is made for hard core drilling and explosive training. The gear is based on scientific designs and material, and we are proud to have a research and development wing which makes sure that everything keeps innovating and getting better with time. In fact, some of our gym clothing is so light weight; your customers are going to feel super comfy! If you want to start a sportswear private label brand, this collection of ours is a definite must-have.
Why choose Berunwear Sportswear as your private label manufacturer?
Berunwear has a team of highly passionate and talented designers and having access to state-of-the-art manufacturing equipment and facilities. We are at a favorable position to offer you with all-inclusive OEM/ODM Private Label sportswear apparel and accessories services.
Main Clothing Products:- T-shirts, Tank Tops, Hoodies, Joggers, Shorts, Leggings, Sports Bra etc.
Main Accessories Products:- Wrist Wraps, Straps, Weight Lifting Belts, Gloves, Knee Sleeves, Elbow Sleeves etc.
Label and Hangtags:- If you do not already have your own brand, care, size and country of origin labels, we are happy to develop these for you.
We, Berunwear are recognized among the industry's leading Manufacturers, Wholesalers and Suppliers of high quality sportswear apparel and accessories for men and women. We offer complete OEM/ODM Private Label sportswear apparel and accessories manufacturing service. We carry out all our manufacturing processes in-house and have emerged as the ultimate wholesale destination for all kinds of sportswear apparel and accessories. We have worked with brands from all over the country. Some of these brands are well established and have been around for years while others are just starting out. YOU THINK IT. WE MAKE IT!