There are few types of clothing in which fashion and function being optimized is as essential as when it comes to activewear. Wearing clothes that perform as great as they look can be the difference between a so-so workout and an amazing one. Your activewear does more than make you look good–the best workout materials can also increase the efficiency of your sweat sesh by keeping you cool and comfortable. Today you will learn, in this post, some industry secrets that the sportswear manufacturers will never tell you: what are the best fabrics for activewear?
Why is fabric so important?
A lot of people that play sports are unaware of the damage that can happen to the wrong sports outfit in the wrong environment. That is why it is important to understand what these fabrics will do for you and how to use them to your advantage. Let's take an example. Fabric such as cotton is susceptible to moisture damage or wicking as it is commonly called. This is when moisture passes through the fibers of the clothing and causes a number of problems. These include those annoying balls of fluff that stick to your skin, all the way down to retaining the sweat long after the sport has been played.
Top 4 features of best materials for activewear
1. Moisture Wicking and Breathability
When high-intensity exercise takes place, sweating will occur to evaporate heat off the skin. If clothing is not breathable then there is nowhere for the moisture to escape. This causes moisture to build up inside the garment and on the skin resulting in the body getting hotter. Another consequence is when exercise decreases and the heat stops being generated from the body, the moisture (which is less insulating than still air) will then increase heat loss rapidly, especially in a cold environment.
2. Durability
Workout clothes are made to be durable. Workout activities can tear clothing easily if they are weak or of poor quality. Rapid movements or contracting and expanding of muscles require a fabric that can stretch. That's why manufacturers of gym wear usually include a percentage of Spandex or Elastane in their fabric combination.
3. Thermal Insulation
Fabrics with good thermal conductivity are not good insulators, therefore these fabrics will be cooler to wear. Air is one of the worst conductors of heat which is why the more still air a fabric can trap, the warmer it will keep you.
4. Flexibility
During your workout session, you desire clothing that will allow for flexibility. The clothes you choose and wear will affect your performance in the gym. Wearing clothing made from breathable and moisture-wicking fabric like bamboo, nylon or spandex will allow for air circulation making you fresh and comfortable. Stretching fabric is appropriate for the gym as it will offer you an unrestricted range of motion. However, the clothing should not compress your diaphragm or waist.
Best fabrics for activewear manufacturing
1. Cotton
Cotton is an excellent fabric as long as you blend it with other fabrics like spandex. This is because cotton absorbs moisture, which is not suitable for heavy workout sessions. However, as stated before, it can be used in blending with other fabrics, such as spandex. Even so, it is recommended for low-sweat activities. Unlike synthetic fabrics, cotton has a less post-workout stench.
2. Spandex
The quintessential workout fabric spandex is known for its ability to recover and stretch. It's part of almost every tight fitting activewear separate since it's critical for allowing the body to move comfortably. However, according to Lee, it can easily lose elasticity if repeatedly tossed in the drier, dry cleaned, or ironed.
3. Polyester
Polyester is inexpensive, it can be recycled, it's quite durable (though not as durable as nylon), and it also has low moisture absorbency so with the right treatment it can have wicking and quick dry properties. Polyester fabric is much easier to use for digital printing because it takes color much more easily than nylon and can have very saturated prints.
4. Nylon
Nylon is the most strong and abrasion-resistant fiber compared to polyester. It has low moisture absorbency and with the right treatment, it can have wicking and quick dry properties. The fibers are smooth and long-lasting which makes them much more durable than polyester.
5. Bamboo
Bamboo is a highly ranked natural fabric that's widely used in making activewear. It is light, soft, breathable, and moisture-wicking. The bamboo fabric is also known to protect your skin from ultra-violet rays. It regulates your temperature and also repels odors. The material protects you against the sun and keeps you fresh even after intense workout sessions.
6. Wool
Wool is a natural fiber that's not only durable but, according to Garabedian, has inherent properties ideal for performance such as exceptional breathability, moisture management, and thermoregulation.
Sportswear vs. Activewear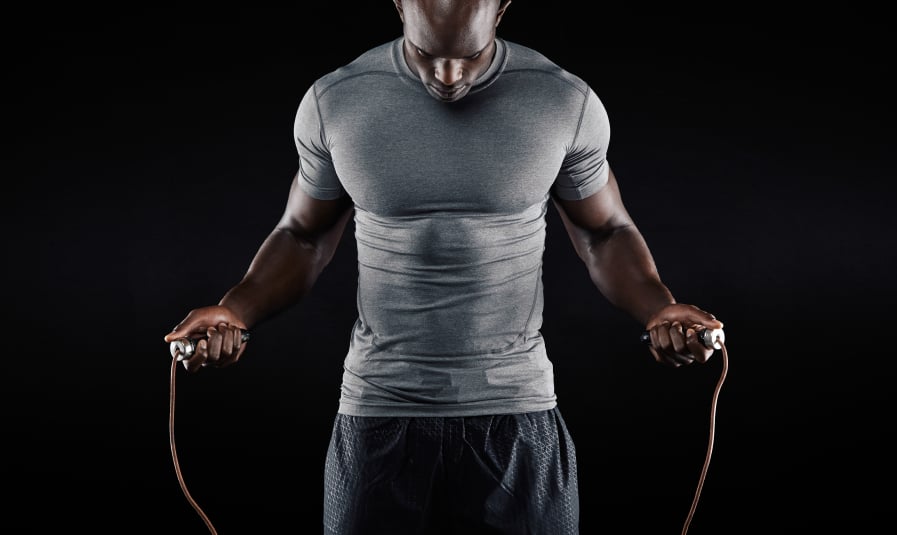 We have talked about the differences between sportswear and activewear in one of our past posts, in fact, the deeper difference is here: they are often made in different fabrics. Because sportswear needs to be worn outdoors generally and used in a variety of scenarios, the requirements for fabrics will be significantly different from those of activewear that is usually used indoors.
Best sportswear fabrics:
Lycra
Mesh
Neoprene
Waterproof Material
Microfiber
Synthetic Waddings
Sports fleece
When it comes down to it, the best fitness gear for you is the fabric that's best suited for the kind of workouts you're routinely doing to get active. If possible, choosing clothing options that are environmentally sustainable seems to be the best route to go down, as you'll get more uses out of the material, thus using them longer rather than throwing them out after only a couple of uses.
It's a pity that many activewear buyers don't have enough awareness of the importance of fabrics. They are often deceived by the flashy appearance of the clothing. In the end, they will only buy some active clothing that is not durable or easy to fade, or very uncomfortable to wear.
For sportswear wholesalers, knowledge about fabrics is particularly important. Some unscrupulous sportswear manufacturers will shoddy or cut corners to produce inferior activewear. If you can't distinguish them, it will cause irreparable loss of reputation for your clothing brand.
Berunwear recommends choosing sportswear suppliers carefully, and you can ask the manufacturer to provide fabric samples or garment samples before placing an order.